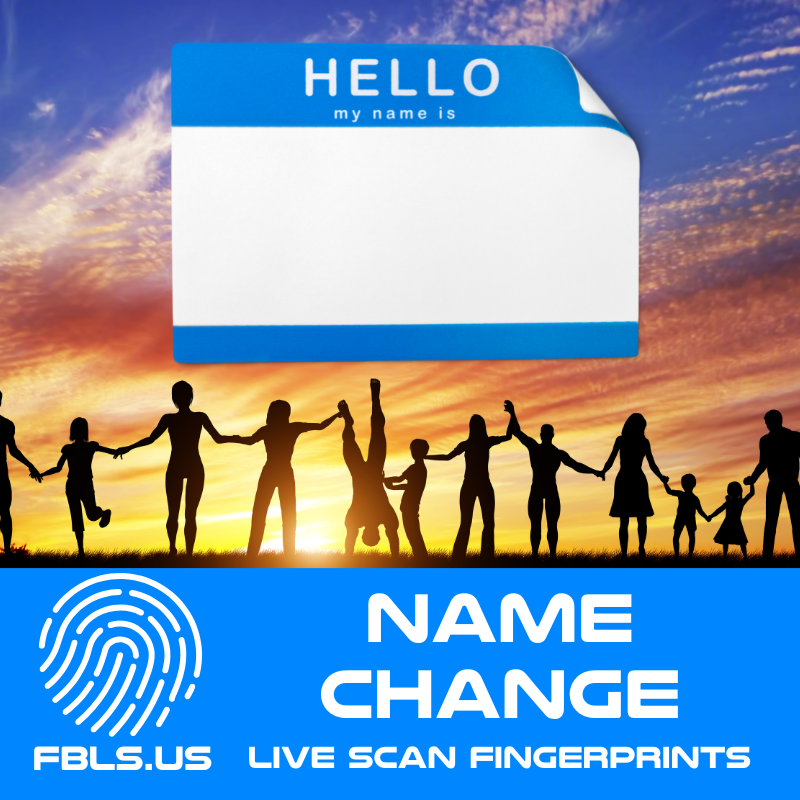 Name Change Fingerprinting
What county is your name change for?:
FL923790Z - Hillsborough County Name Change
FDLE Fingerprinting and Background Check Service for Your Florida Name Change:

Are you seeking a name change in Florida? Ensure a smooth and reliable process with the FDLE Fingerprinting and Background Check Service. Developed by the Florida Department of Law Enforcement (FDLE), this service offers a comprehensive solution to verify your identity and facilitate a secure name change procedure.

With the FDLE Fingerprinting and Background Check Service, you can confidently navigate the name change process, knowing that your identity will be verified and any potential criminal records will be thoroughly checked. Here's what you can expect:

1. Professional Fingerprinting: Our service utilizes the state-of-the-art Livescan system, which digitally captures your fingerprints for accurate and efficient processing. No messy ink, no outdated methods—just modern technology ensuring precise results.

2. Trusted Authorization: FDLE has carefully selected and authorized specific vendors throughout Florida to provide fingerprinting services. Rest assured that you will be visiting an approved provider, guaranteeing compliance with FDLE standards and requirements.

3. Thorough Background Check: Your fingerprints will be submitted to FDLE for a comprehensive background check. This step is essential to verify your identity and ensure the integrity of the name change process. By conducting a thorough examination of criminal records, FDLE helps maintain a secure environment for all individuals involved.

4. Court-Ready Documentation: Once the background check is complete, you will receive the necessary documentation and results to support your name change petition. These records can be submitted to the court, facilitating the legal process and demonstrating your commitment to transparency.

5. Peace of Mind: By utilizing the FDLE Fingerprinting and Background Check Service, you can proceed with your name change application confidently. Knowing that your identity has been verified and your background has been checked, you can anticipate a smoother and more efficient process.

Choose the FDLE Fingerprinting and Background Check Service for your Florida name change and embark on your new chapter with confidence and peace of mind.
Fingerprinting for your Name Change Includes:
Professional Fingerprinting Session with trained Fingerprint Technician
Submission of fingerprints to selected FDLE ORI #
Automatic Reporting to your name change application

Electronic Fingerprint Tracking Link
Please note that specific procedures and requirements may vary depending on the county or circuit where you're filing your name change request. We recommend consulting the official website of the Florida courts or seeking legal advice to ensure compliance with all necessary guidelines.
fingerprinting locations
In-person Appointments