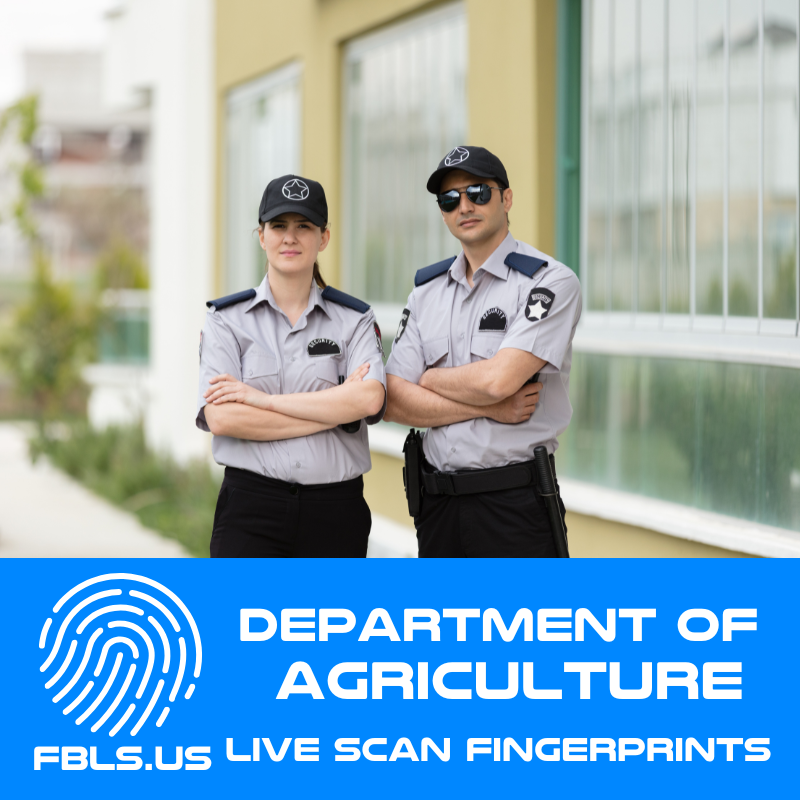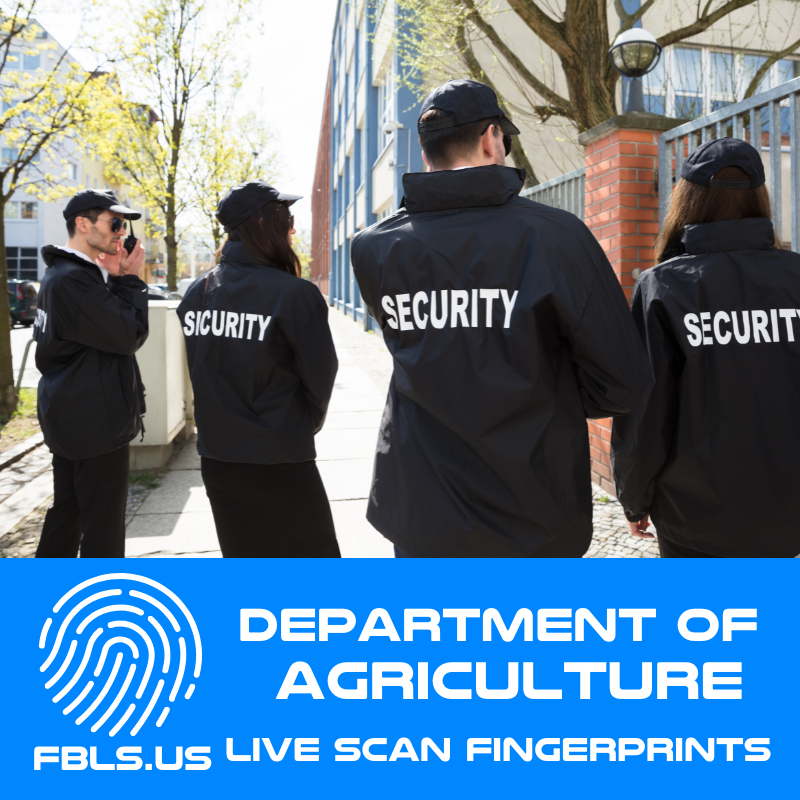 Department of Agriculture Fingerprinting
ORI Number:
FL923130Z - D License (Security Officer)
Fingerprinting for Your Florida Department of Agriculture License:

Are you pursuing a license from the Florida Department of Agriculture and Consumer Services (FDACS)? Make the application process seamless and compliant with the Fingerprinting Service for FDACS License.
This service provides a comprehensive solution to fulfill the fingerprinting requirements for your license application, ensuring a smooth and efficient experience. Here's what this service includes:
1. Hassle-Free Fingerprint Capture: Our service utilizes advanced technology to capture your fingerprints accurately and efficiently. We employ the latest digital fingerprinting techniques, eliminating the need for messy ink and ensuring precise results. With our state-of-the-art equipment, you can trust that your fingerprints will be captured with the utmost clarity.
2. FDACS Compliance: Our fingerprinting service is designed to meet the specific requirements set forth by the Florida Department of Agriculture and Consumer Services. We understand the unique needs of FDACS license applicants and ensure that our service aligns with their guidelines. By choosing our service, you can rest assured that your fingerprinting process will be in full compliance with FDACS regulations.
3. 
Authorized Providers: We 
are an
 authorized vendor approved by 
FDLE
 to offer fingerprinting services. These trusted providers have undergone a thorough screening process to ensure professionalism and adherence to 
FDLE
 guidelines. When you visit one of our authorized 
locations
, you can be confident that your fingerprinting will be conducted by experienced professionals who prioritize accuracy and efficiency.
4. Efficient Processing: Once your fingerprints are captured, they will be submitted to the appropriate authorities for processing. This ensures that your fingerprint records are promptly reviewed and verified. Our streamlined process minimizes delays, allowing you to move forward with your FDACS license application efficiently.
5. Expert Guidance: Our knowledgeable staff is available to provide guidance and support throughout the fingerprinting process. If you have any questions or concerns, our team will be ready to assist you and ensure that you have a clear understanding of the requirements and procedures.
Whether you're applying for a license in agriculture, consumer services, or any other sector overseen by FDACS, our Fingerprinting Service for FDACS License is here to simplify the fingerprinting aspect of your application. Trust us to handle the intricacies of the process while you focus on preparing for your exciting career in the agricultural industry.
Please note that specific procedures and requirements may vary depending on the type of license you are pursuing and any updates to FDACS guidelines. It's recommended to consult the official FDACS website or seek professional advice to ensure compliance with the most up-to-date requirements.
Choose our Fingerprinting Service for FDACS License and embark on your journey to obtaining your Florida Department of Agriculture license with confidence and ease.
Fingerprinting for your Florida Department of Agriculture License Includes:
Professional Fingerprinting Session with trained Fingerprint Technician
Submission of fingerprints to FDLE ORI # FL93130Z
Automatic Reporting to Department of Agriculture

Electronic Fingerprint Tracking Link
fingerprinting locations
In-person Appointments